Admission details for the academic year 2024-2025 will be available soon. Admission details for the academic year 2024-2025 will be available soon.

This online payment system is provided by the INSTITUTION viz. Vidya Mandir @ Estancia which may update these terms from time to time and any changes will be effective immediately on being set out here. Please ensure that you are aware of the current terms. The country of domicile for Vidya Mandir @ Estancia is India.

A school with the best practices, learning and evolving while retaining Indian ethics, customs and traditions.

'SAHA VIRYAM KARAVAVAHAI'. The meaning in English is "Let the teacher & student together perform great acts of strength."

To send out into the world children who are confident and capable of realizing their potential as they grow, learn and evolve into worthy citizens.

Consists of a Circle within which are seated a boy and a girl who are reading a book together. It symbolizes our motto that when working together we will achieve more and reach greater heights.

Is a branch of Vidya Mandir, Mylapore. It was inaugurated on June 11, 2009 by Dr.K.Kasthurirangan (former MP and member ISRO), in the presence of students, staff, parents and well wishers.

It is situated inside the Estancia Township on GST Road, Vallanchery. Estancia Township on GST Road, Vallanchery.


It is spread over two sprawling campuses on either side of the private road inside the Estancia Township. Classes LKG to 5 operate in the old campus and classes 6 to 12 operate in the new campus.

Both buildings house airy, spacious classrooms and several courts and areas for free play. The total built up area is 1,40,000 sq ft.
Vidya Ganapathi has taken up residence in a shrine within the school campus which is also the abode of Lord Dakshinamurthy. Special pujas on Vinayaka Chathurthi , Sankatahara Chathurthi and the month of Marghazhi are performed on a large scale apart from the regular daily puja by the priest who is specially appointed for the purpose. A Nagar and Arasaradi Vinayakar are seated under the Neem and Peepal tree in the vicinity of the temple.

Ya Kundendutushara hara dhavala
Ya shubhravastravrta
Ya veena varadandamandita kara
Ya shwetapadmasana
Ya Brahmachyuta Shankaraprabhutibhi:
Devaisada Poojita
Sa mam Patu Saraswati
Bhagawathi nishyeshya jadyapaha
Om Sahana vavatu
Sahanaubhunaktu
Sahaviryam Karavavahai
Tejasvinavadhitamastu mavidhvishavahai
Om Shanti: Shanti: Shanti: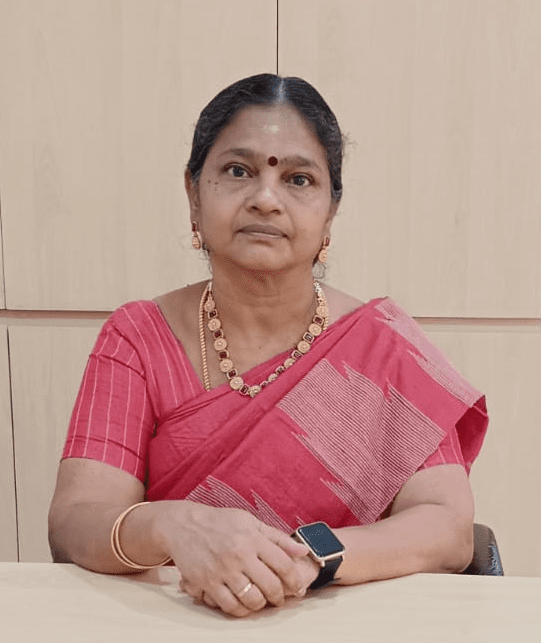 It gives me immense pleasure and a feeling of accomplishment to address you as a principal of this esteemed institution. Since its inception in 2009,the school has been striving towards maintaining high academic standards and excellence in education. In our school, children gain an all round education and achieve their potential not just in the academic field but also in the field of sports and creative arts. Our school is scaling new heights with excellent and reputed professionals training our children in a range of extracurricular activities like Football, Cricket, Karate, Silambam, Basketball and also Dance. Most importantly at the school we are a team of sincere, innovative and dedicated teachers and non teaching staff committed to the welfare of the children in our care. The importance of instilling good values in our students is our prime objective, which we do through life skill classes. We have various clubs in our school like Maths club, Arts club, Quiz club, English and Dramatic club, Nature club, Heritage club, Tamil club and MUN club. From this year we have introduced Coding club, Cinematography club and Enterprise club. Through these clubs we try to hone the talents of our children in a manner that they reach up to their optional potential. In the process they acquire skills necessary to build as all-rounded a personality as possible. The INTERACT CLUB OF VME has been awarded the BEST CLUB by the rotary club of madras. The INTERACT CLUB OF VME has been involved in many activities across the city and contributed funds to many government schools, through various social activities like, toy donation, pass it on etc. Another feather added to our VME cap is our school e-magazine Vidya Pratidhwani and Vidya Vartha. Our aim importantly is to make education a fun- filled, enjoyable, learning and growing experience on the solid foundation of values. We focus on experiential learning with a lot of activities. Our campus is vibrant with energy, enthusiasm and activity. Our sincere gratitude goes to the members of PTA and all the parents who have supported us at every step of our growth. I personally wish all the teachers and students a bright future and a successful year ahead. Congratulations for their commendable efforts in the last year.